Ever wondered how you could get your ad showing right under the nose of your competitors in Gmail?
What if I told you that your competitor's hard work could start paying off for your company?
It can happen and here's how:
This hack uses Gmail's Sponsored Promotions – an Adwords Display channel that allows you to display ads through Gmail itself. Once a user opens up Gmail, if any of the keywords you've chosen to target appear in their email inbox, one of your teaser ads will appear at the top of the screen.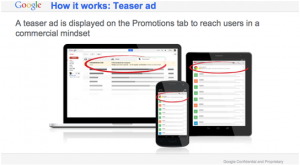 When the user clicks this a large, full-screen ad pops up giving you a way to market your content to the Gmail user directly. On top of this, these ads will work on both mobile and desktop automatically – auto-optimizing to suit each device.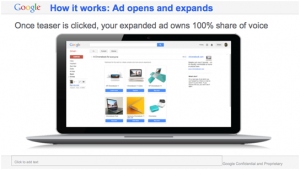 As I'm sure you already know, Gmail is by far the most popular email app and its reach is massive. GSP lets you target not just existing customers, but also potential new customers and even former contacts – it's also especially great for mobile traffic.
Plus GSP ads are made simple to design; Google gives you access to their Gmail Ad Gallery that has a load of images you can use to really spice up your copy.
As with any Display ad, cost, time on site and bounce rates are a huge concern. Luckily GSP is super cost effective, especially with high-ticket industries favoring longer sales-cycles. How come? Because where you'd usually be paying $50-$100+ per click for a Google Search Network ad, on GSP you'd be paying around $0.20 per click, whilst still only appearing to a relevant audience.
Not only this, but GSP audiences on average spend four times longer on the advert's website than a regular visitor. So:
1. People stay for longer on your advert's website.
2. Your ad is being marketed to an audience who most likely cares what you have to offer.
3. All this costs you pennies on the dollar.
It's a win-win!
But here's the best bit, not only can you bid on keywords found in the user's inbox, you can actually target domain names.
Specifically, the domain names of your biggest competitors!
So if the user has been sent a newsletter, a promotion or even a reminder email from your competitor, your ad will be shown right under their noses. Do this right and every time they receive an email promotion, you can be right there with a counter-promotion.
Your competitors won't know what hit them. What they might think is a direct conversion suddenly gives you the opportunity to grab market share for your business. Not only that, but you know that the user is interested in what you have to offer, so get in there and close quickly.
There is a small drawback, you are limited to only four displays per week so whilst you'll be encouraging leads rather than hassling them, choose your targeting keywords wisely.
Can you afford to miss this?
Need more help targeting the right people?
Bluespark Digital is a Paid Traffic agency who specialize in attracting more customers through Adwords, Facebook, Twitter and much more.