Google AdWords Management
How to succeed with the worlds biggest Pay Per Click Advertising network
What is Google AdWords?

Google AdWords is simply the most popular PPC advertising system in the world. Google's properties and network is the largest in the world, AdWords gives you the ability to advertise on its search engine and a huge number of other pages Google owns advertising space.
Put simply – Google is the best and biggest search engine, meaning it gets the most traffic. More traffic equals more people to advertise to – to get the best from PPC you need to have a good understanding of Google AdWords.
What is Google AdWords Management?

In order to maximise your revenue, you need to have a system in place for managing your AdWords campaigns, account and landing pages. The benefits of having a well-managed AdWords account are simple, you make more money and appear higher in the listings. If you want to maximise your return on investment, comprehensive AdWords PPC management with a defined strategy is the only way to do it.
What Is Conversion Tracking?

There's no point in spending money driving more traffic to your website or landing page if you can't work out whether you're making a return on your investment.
Conversions are when a site visitor 'converts' into a paying customer, or takes action on the website that would be classed as a sales enquiry. Let's say I have 1000 people click my advert and 50 of them call the phone number or sign up to the form on my website, then those 50 users would count as conversions.
To accurately measure conversions, you need to have a strategy to monitor how people enter your website or landing page, see how easy to use they find that page and then how many of those go on to become genuine sales enquiries.
Why Do You Need To Care About Conversions?
Without conversions, you cannot accurately work out what your PPC investment has generated in revenue for your business, nor can you work out if your campaign has problems or even whether your campaign is generating any leads at all.
Conversion tracking takes rather specialist technical know-how to implement correctly, requiring specific skills in code and understanding of Google's tools. Without this knowledge, you most likely will not set up the conversion tracking correctly – making it an entirely pointless exercise.
Optimisation

Optimisation is the improvement of AdWords campaigns, which involves making changes to the campaign to help drive more conversions and ultimately, more sales.
Once you've got your conversion tracking set up correctly, it's critical you use conversions as a metric to help optimise and improve your AdWords campaigns. Without this feedback, you are making changes completely in the dark.
Most advertisers do this process manually, making it a pain staking process that takes an inordinate amount of time. The most efficient advertisers make use of AdWords scripts that automatically do lots of the legwork, however these scripts will only run correctly if the AdWords campaign is suitably well organised and pain-stakingly set up and monitored.
Optimisation is how you go from a sales enquiry costing you £500, to a sales enquiry costing you £5. It really is that critical.
Machine Learning

Google has recently implemented a new form of 'smart bidding' that is now powered by machine learning. Smart bidding can factor in millions of signals to determine the optimal ad bid whilst continually refining conversion performance at different bid amounts to help you get the most from your budget.
These machine-learning algorithms utilise a vast amount of data to help you make more accurate predictions across your account about how your bid amounts may impact conversions. Put simply, these algorithms factor in a wider range of parameters that might impact your advert's performance than a whole team of people could compute.
How Can You Get The Most From Your AdWords Management?
Before you begin you need to have a well thought out strategy, be up to date with the latest Google developments, have a technical understanding of conversion tracking and know how to optimise every aspect of your campaign.
Refining, adding and improving the keywords you use is critical. Removing costly keywords that aren't delivering you results and refining your landing pages to optimise for sales is another often overlooked step – without this you are wasting your money.
You also need to know what to do when things go wrong or how to change your campaign when you're not getting the results your business needs. What to improve, change or remove at the right time to get the campaign moving in the right direction.
If you don't know how to do all of these steps, then you need to call in the professionals. Bluespark Digital specialises in delivering results on the AdWords platform. We have a proven track record of delivering, optimising and getting you the results you need to see a return on your investment.
We get the right people to your business, show them an advert that's relevant to what they want and convert them into customers.
Ready for your business to start earning you more? Get your free strategy session now.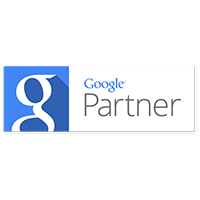 We Have Google Working On Your Campaigns
As a trusted Google Partner, we have dedicated Account Managers and Campaigns specialist within Google who will be working on your campaigns. Unsurprisingly they have access to information, tool and know-how which isn't publicly available. This means we can get your results faster and even get you access to new product features which give you an edge over the competition, long before they've even heard about them.